---
Founded in 1945, VAR is a family company located in Gellainville, near Chartres.
Historically specialized in tools for bicycles and motorcycles, the company has refocused on the bicycle universe by offering the complete and necessary range for a cycle mechanic:

Bike tools : Presses, sockets, wrenches, extractors compatible with the different standards. Sold in 2 ranges: the Premium for hobbyists and the Professional.
General tools : Tools needed for bicycle repairs such as pliers, torque wrenches, screwdrivers, electronic devices, etc.
Workshop furniture : Fixed furniture, trolleys, tool-holder panels and storage foam to optimize your workshop, your organization and your professionalism.
Floor tiles : An essential element to improve your comfort and avoid any breakage when a component falls.
Repair stands : Manual or electric stands to hold the bike at working height.
Part cleaners : Allows us to offer an efficient, ecological and economical cleaning service.
Pumps : From mini-pumps to workshop pumps, there is something for every need.
Battery storage cabinets : Standardized storage structures to contain and extinguish the fire in the event of a lithium-ion battery fire. Several options and sizes are available.
Maintenance products : The complete range of aerosols, greases and lubricants to maintain your bike.
Consumables : From hydraulic parts to be changed during maintenance, to classic workshop consumables.
Spare parts : Derailleur hangers, valves and brake pads.
Equipment : Accessories such as bottle cages, cable protection.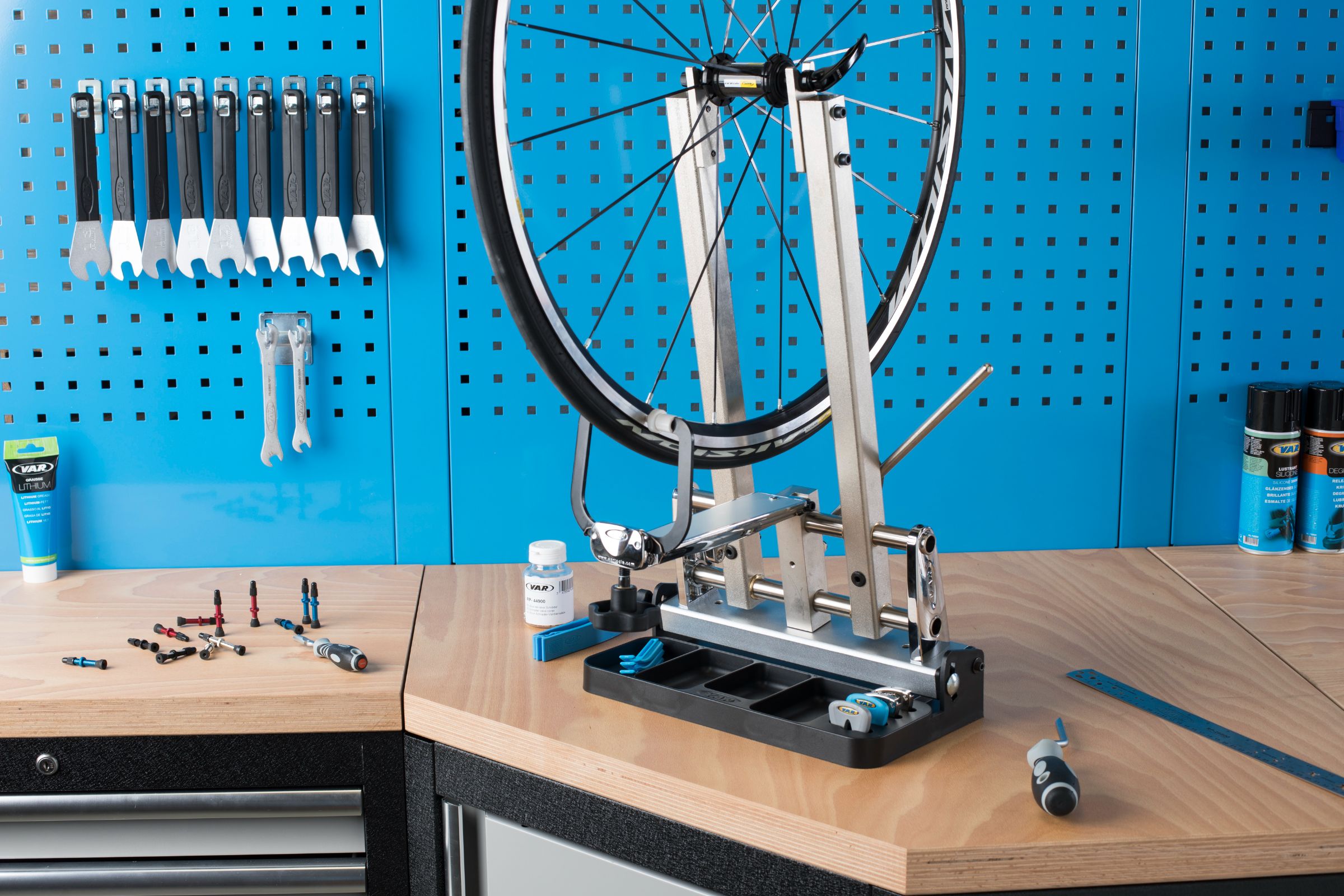 Our goal is to offer you the most complete range of equipment needed for your workshop. To do this, we develop specific tools for repairs according to 3 principles:
Facilitate your repairs : Create tools allowing you to simplify operations, the necessary equipment in order to save time.
Offer quality products : The ergonomics and lifespan of our tools are important factors taken into account from the design stage.
Availability of products and spare parts : Responsiveness is an important value at VAR. Our warehouse allows us to stock massively in order to minimize shortages and reduce restocking times. Spare parts are available to reduce waste and extend the life of tools, including those that have been discontinued for a few years.
---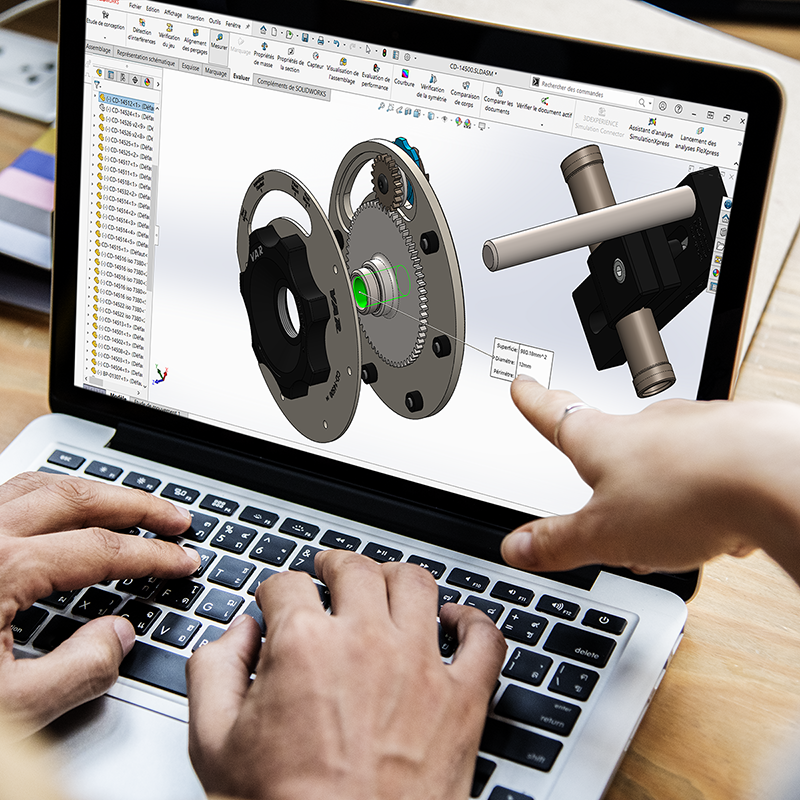 With our expertise in the field of cycles for 75 years, we continue to offer you the best solutions. In collaboration with our customers and training centers, we rely on their feedback and suggestions to reflect on possible developments that can improve your quality of work.
The design team has been trained in your profession to ensure a coherent vision between theory and practice, to provide a technical, efficient and imagined product for the user.
The products are then tested by professionals before being placed on the market.
As a result, we are known for offering you quality, efficient and innovative tools.
---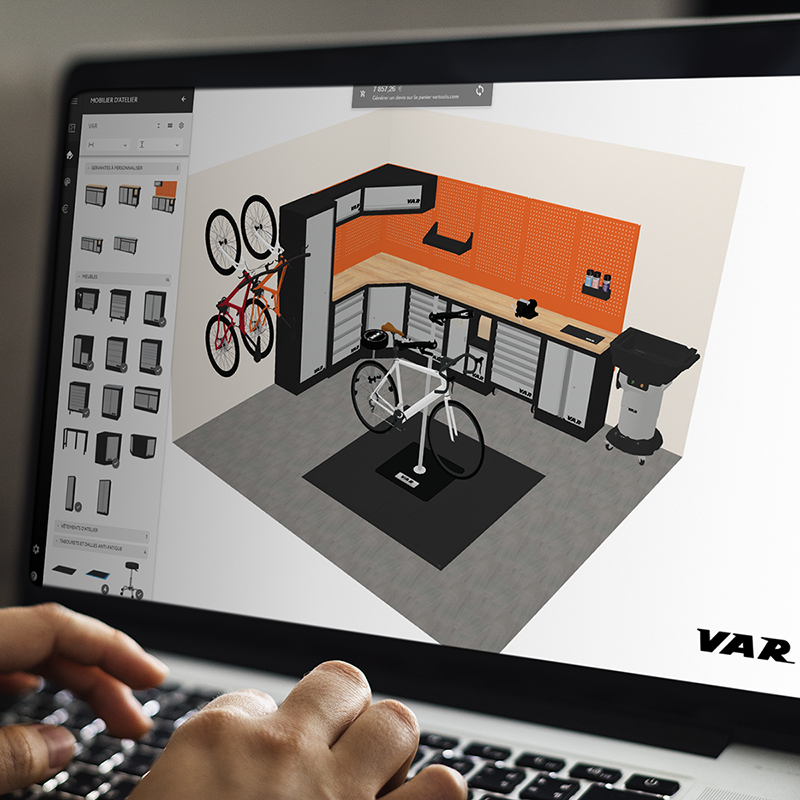 In order to offer you an irreproachable service, VAR is constantly evolving. We strive to anticipate our stocks to deliver to you as soon as possible. In addition, multiple tools are available to facilitate your experience at VAR.
Do you need inspiration? The virtual tour of our last show is available!
Do you want to imagine your future workshop? The 3D planner is there to help you!
Do you want more precise tracking of your orders? Our new website has been designed to give you as much information as possible!
The sales team is at your disposal for any questions. A technician is also at your disposal to advise you on workshop layouts and the choice of tools.
---
For any after-sales service request, product return, workshop project, account opening, please complete the appropriate form on our site.
VAR SAS
19 Avenue Gustave Eiffel
Lot D6, Espace Eiffel
28630 Gellainville, FRANCE
Phone : 02 37 33 37 10
Mail : contact@vartools.com
Monday to Thursday :
8:00 - 12:00 & 13:00 - 17:00
Friday : 8:00 - 12:00